Bird feeding is something you can set up once and be able to feed the birds in and around your house with ease. Especially during the peak summer or winter months, birds often flock around the neighborhoods looking for food and water.
Different bird feeders are available in the market that you can purchase directly or DIY some yourself. We'd recommend picking up a readymade one from your local hardware store since it's a lot more convenient.
This article will explore some of the best bird feeder hanging ideas you can try out outside your home.
Also read: How to Get Rid of Geese? | 11 Potent & Humane Ways
List of the Best Bird Feeder Hanging Ideas
With so many different types of bird feeders available in the market, choosing one can be a challenge. However, don't worry because we have sorted out some of the best options worth the time.
While shortlisting the best designs and ideas, we kept the list diverse and versatile, which you can sort according to your needs.
1. Suet Bird Feeder
The first option for the bird feeder hanging ideas we'd recommend checking out is the Suet Bird Feeder. What's great about this type is the accessibility. You can find it in your nearest grocery and hardware store.
This kind of bird feeder is quite popular in winter since it radiates heat and energy to the insect-eating birds flying around your home. If you plan to create your own, get a mesh from the grocery store, add the suet inside it, and hang it around your home. It is a very cheap hack too.
2. Plastic or Porcelain Bowl Bird Feeder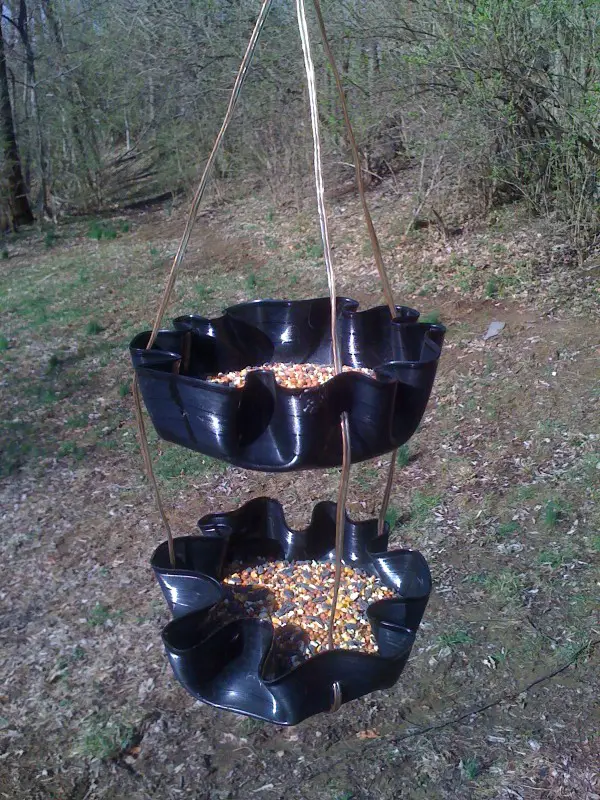 Another DIY bird feeder hanging idea worth looking into is the one with stacked plastic or porcelain bowls. The plastic feeder is a lot easier to set up, but you might experience some shortcomings when it comes to using the porcelain bird feeder.
You can get 2-3 plastic or porcelain bowls and create holes on the side to put a rope through holes. You can then hang it outside your house. Fill each layer of the bowls with some bird feed and water.
3. Tray Bird Feeder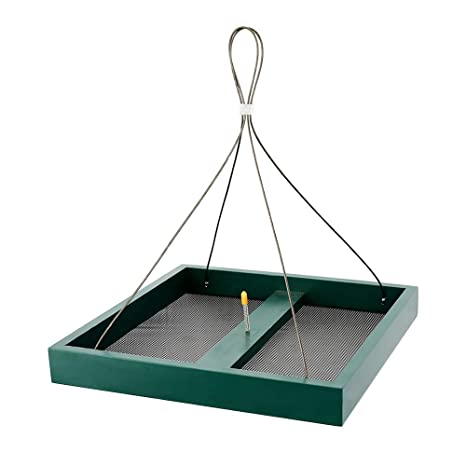 This is another basic bird feeder idea that you can DIY from the comfort of your home. It is hands down the easiest one to make, especially if you have some spare wooden or plastic bird feeders available around you.
Wooden trays make a better option, mainly because they are sturdy and can withstand the wind or change in the weather outdoors. Flimsy plastic trays don't stay stable outdoors. Also, if you are using a tray-based bird feeder, use a solid foundation to stabilize them to the ground.
4. Plastic Bottle Bird Feeder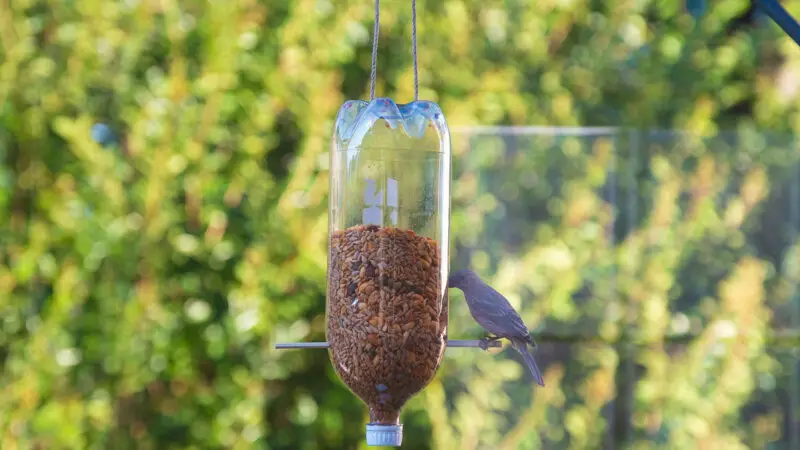 This is hands down the most common bird feeder hanging idea that you can check out. It is one of the techniques that most people opt for because it's easier and enables you to reuse the plastic bottles lying around your home.
If you have single-use plastic bottles, you can create a large hole on the side, insert some wooden cylinders and fill the bottle with the bird feeding grains and such. Once done, you can hang the feeder outside your home to enable the bird to come and have a bite.
5. Tube-Style Bird Feeder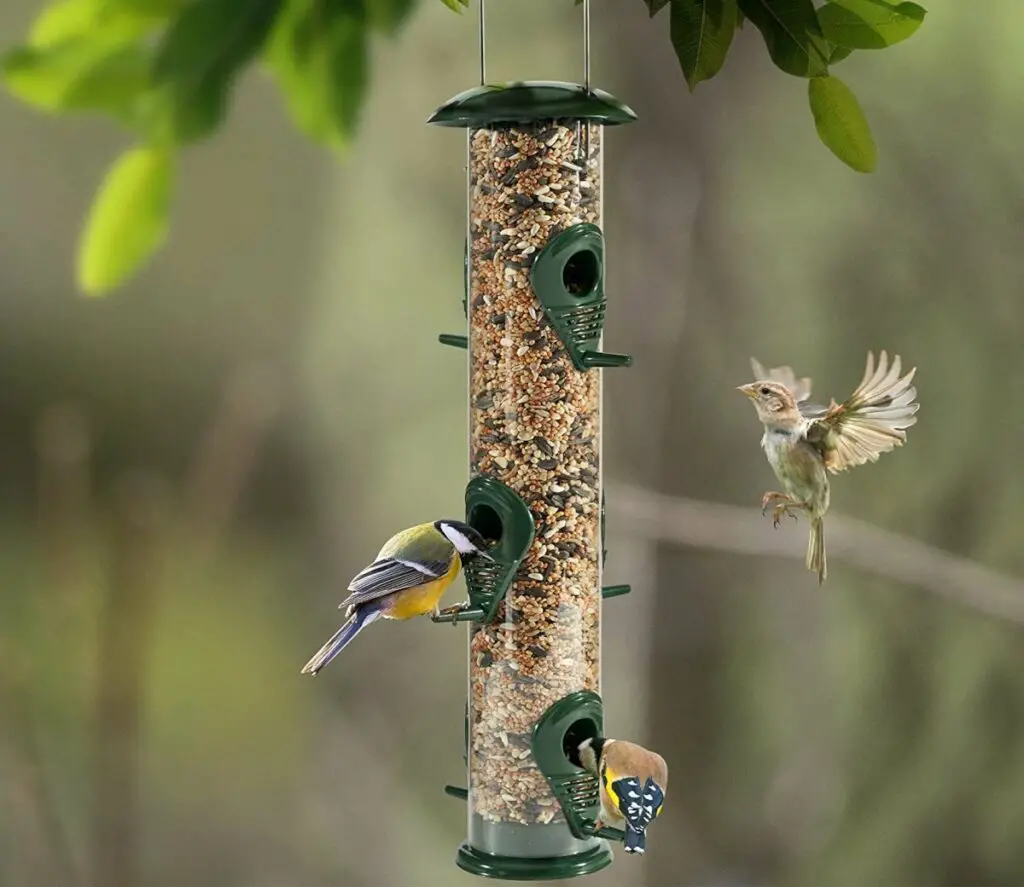 This is similar to the plastic bottle bird feeder we just discussed. However, making a bird feeder of this kind from scratch can take a lot of time and supplies. If you have the money to spare, we'd recommend going out and buying one since it's easier.
One easy way to DIY this kind of bird feeder is by using a PVC pipe. You can close it from one end and create some big holes in the pipe where the bird can come and feed. Fill the entire pipe with the grains, nuts, and other foods that birds eat.
6. Wooden Birdhouse Feeder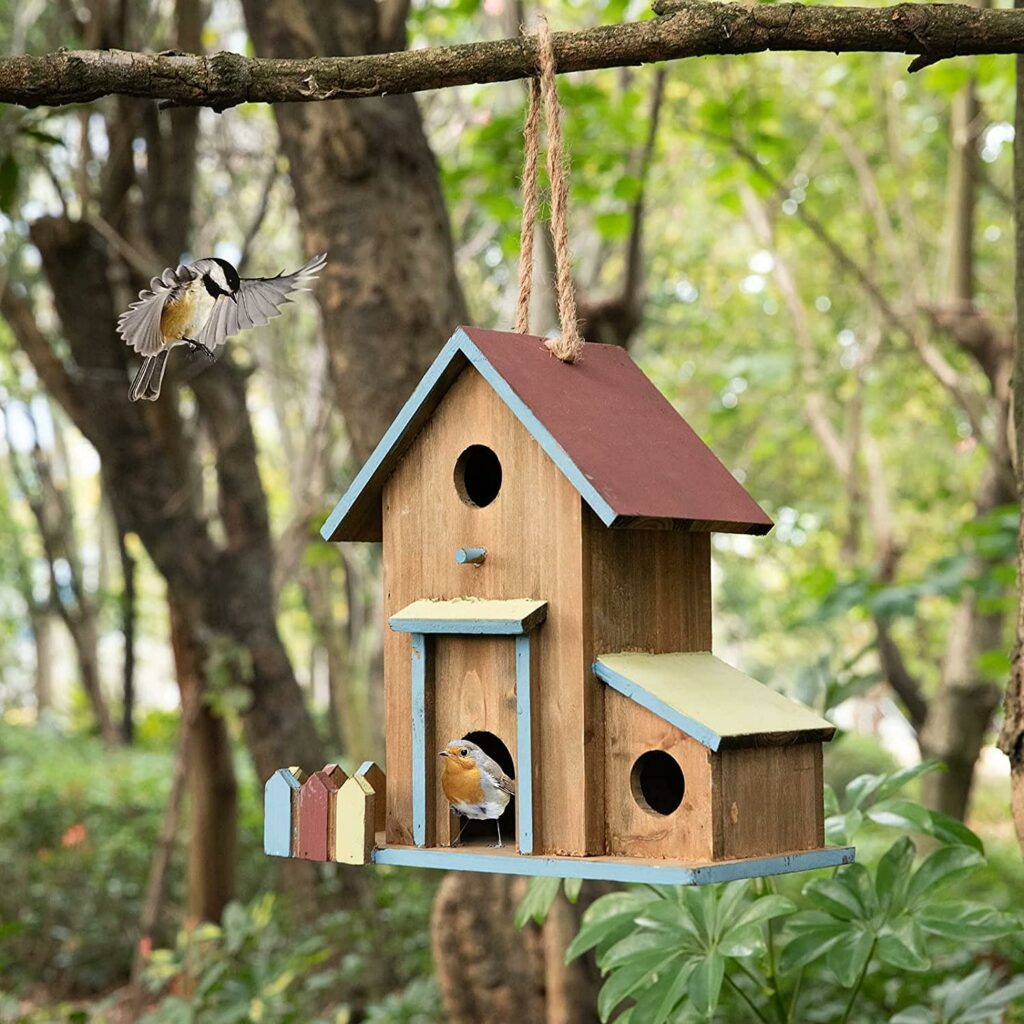 When it comes to fancy bird feeders, we had to include this one in the list. The wooden birdhouse feeders are readily available in your nearest hardware store. If you are into wood tech and have assignments to create your birdhouse, we'd recommend giving this a go.
You can start by sketching out the design of the birdhouse first. From there, you can go ahead and cut and sand the wood to get rid of the sharp edges. Also, if you want to turn the birdhouse into a feeder, you need to fill it up with grains and such.
7. Milk Jug Bird Feeder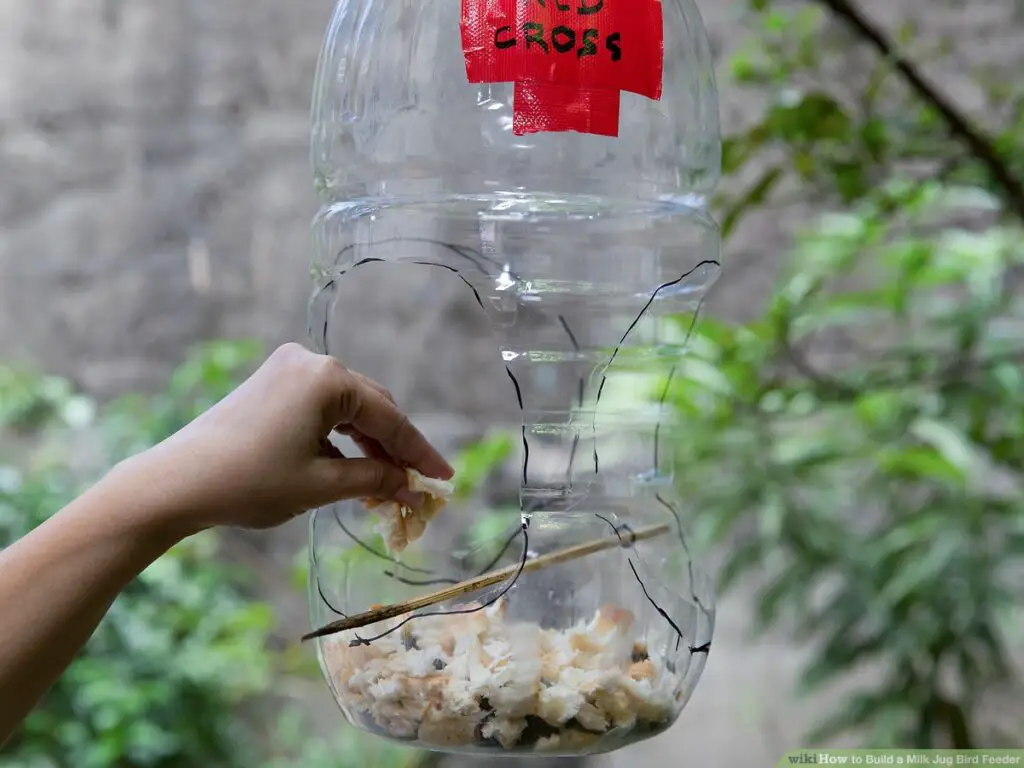 When talking about budget-friendly and eco-friendly bird feeder hanging ideas, the milk jug bird feeder is a lucrative option to explore. All of us have a few spare jugs lying around. You need to cut some big and small holes along one side of the feeder and fill it up with grains.
For the best results, we'd recommend filling it up with some bird seed and then hanging it from the side of the house with some strong strings. This is mandatory. You have to tie it tight so it doesn't fall off the railing of your patio.
8. Half Coconut Shell Bird Feeder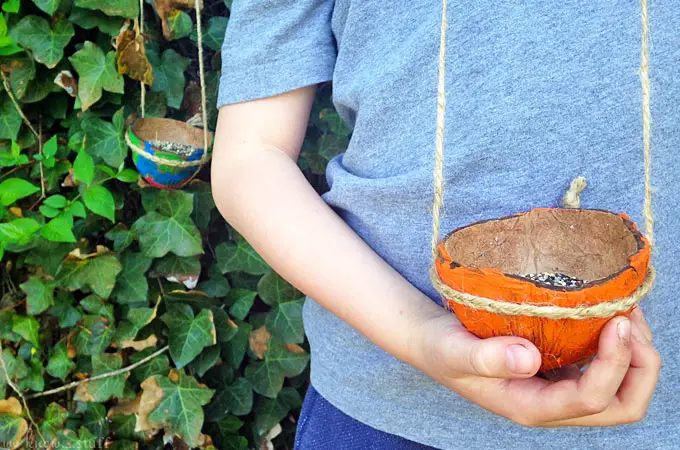 Not many people consider this idea, but if you live somewhere with a steady coconut supply, you can use the same to build a bird feeder for the birds around your house. Coconut shells are great for reusing. What you can do is create three equidistant holes on the surface of the coconut shell.
Insert a thread through the holes and tie a knot on the inside. Next, you can go ahead and hang the feeder anywhere you find suitable in your home. Avoid putting them high up in the building because it might make it difficult for the birds to find them.
9. Lego Bird Feeder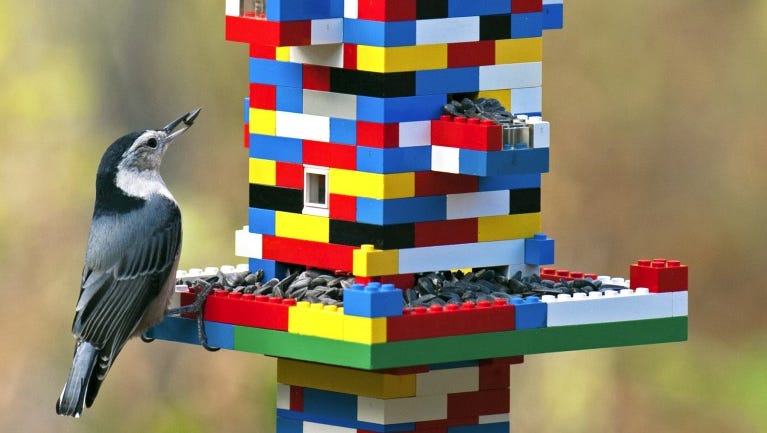 This is quite a quirky and fun bird feeder idea that you can hang around. This is one of the most unique bird feeder hanging ideas you will come across. What's great is the satisfaction you get after building the entire thing from scratch.
You need to ensure that the middle of this feeder is left empty because that's where you will fill the bird's feed and grains. It can be a little flimsy for bigger birds. So, if you find only bigger birds around your house, we'd recommend avoiding this one.
10. Fruit Peel Bird Feeder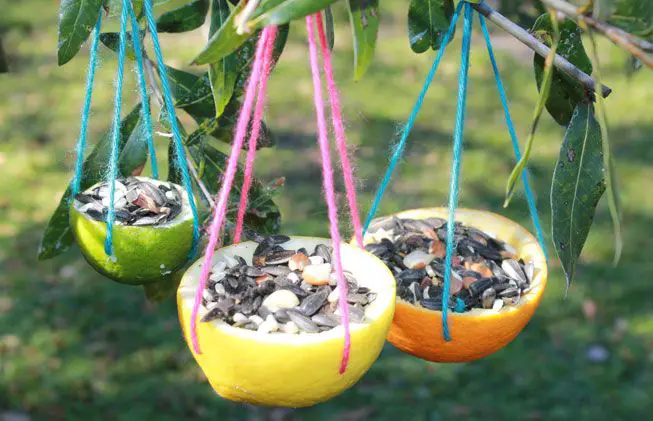 Another sustainable and eco-friendly bird feeder worth checking out is the one you build using leftover fruit peels. This works exceptionally well for citrus fruits like lemons, oranges, etc. You have to cut these fruits down the middle.
Core out the flesh and wash and set aside the feeder. The principle of making this particular bird feeder is pretty much the same as the coconut shell bird feeder.
11. Craft Stick Bird Feeder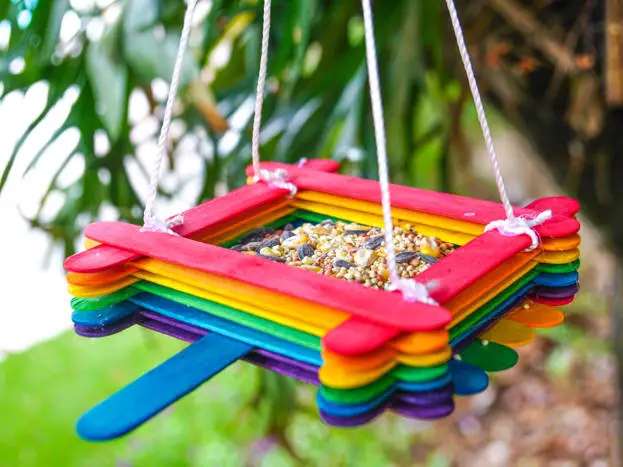 Not many are aware of this particular design, but we'd recommend checking this out. If you have a bunch of craft sticks available at home, you can stack them alternately to create a bird feeder. You'd need to glue these sticks alternately on top of the other.
If you are worried about the opening on the sides, we'd suggest covering the feeder with some paper or plastic so that the grains fall down the side of the feeder.
12. Terra Cotta Bird Feeder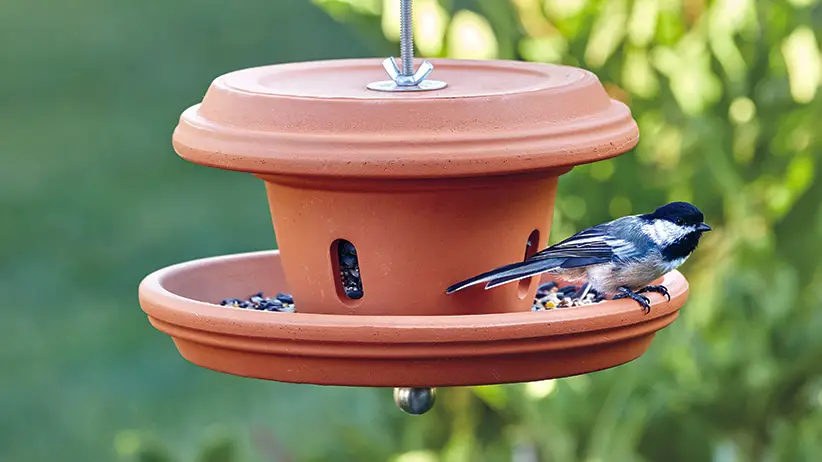 Last on the list is the terra cotta bird feeder, which is readily available in the market. You can get your hands on them from your nearest hardware store. If not, you should be able to get your hands on them at the grocery stores too.
We'd recommend getting the ones with larger holes and better stability to the design so you can hang them outdoors without any compromise.
Also read: How to Get Rid of Barn Swallows? | Top 11 Humane Ways
Bird feeders are a lot more beneficial and significant than you think. Not only do they provide the birds with the nutrition they need, but it is also a one-time set-up that lasts for a long time. We hope these bird feeder hanging ideas come in handy for you. However, we'd recommend you use scraps in your house to build a feeder, or you can buy a readymade one from your local store.
Frequently Asked Questions (FAQs)
What is the best thing to hang a bird feeder with?
If this is your first time hanging a bird feeder, we'd recommend using a twine or hook to hang the feeder stably on the side of your house.
How do you make a hanging bird feeder?
If you want to DIY a hanging bird feeder, you can use leftover milk cartons, plastic bottles, etc., tie their neck with twine and fill it up with bird feed to the top.
What are the different ways to hang bird feeders?
There are different ways to hang the bird feeders, especially by using twine, chain, or a tight rope for better stability.
Where is the best place to hang a bird feeder?
You want to place the bird feeder around the trees and natural areas where the bird frequents the most.
Do bird feeders like sun or shade?
Avoid placing the bird feeder directly under the sun since the harsh sunlight might make it difficult for the birds to spot them. Instead, place them away in the shade.
Do birds like hanging feeders?
Hanging feeders are great for birds since it's easy to spot and enables the bird to come back and feed while in flight. Hanging feeders also don't attract squirrels.
How to make a cheap bird feeder?
The cheapest way to make a bird feeder is by using leftover items available in your home, including plastic bottles, milk jugs, etc.
How high should you hang a bird feeder?
You want to hang the bird feeder 5-6 feet from the ground. Don't hang it too high since it becomes difficult for the birds to spot.
How do you hang a bird feeder without a pole?
The best way to hang a bird feeder without a pole is by using a hook and hanging the feeder using a rope. It is a lot more stable and an easy workaround.
When should you hang bird feeders?
Bird feeders are a great addition during extreme weather conditions, be it summer or winter. You can also hang them when birds are migrating.
Can we put a bird feeder near the house?
Avoid putting the bird feeder inside or just beside your home. It can end up causing accidents. Instead, hang the feeders in a tree or a lamppost nearby.